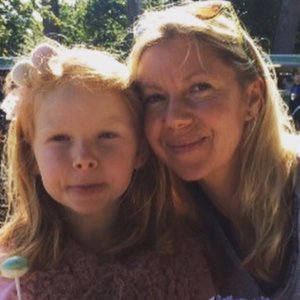 An appetite for healthy living started young, we lived deep in the Dorset countryside, and our lives seemed to be entwined with nature in every way.  The long walks and cycling through the country lanes to get to anywhere, the resident pigs, goats and horses within the village that we would feed and occasionally be invited to church on a Sunday! Food produce either came from your garden, local farms or a community 'produce swap'. My sisters and I were always encouraged to help create something in the kitchen, and the association between farm or ground to fork was present from an early age.
In my early twenties our dad passed away,  which was devastating to our family.  I was living in a vibrant city with a busy social life, when I started to feel unhappy and disconnected from myself and the world around me. I felt in a chronic state of emotional stress and anxiety, and was experiencing terrible digestive issues.
My experience with prescribed medication hadn't given me the desired results I had hoped for, so I found myself researching my options.  My early interest in food and nature lead me to a local Naturopath in Oxford where I was living at the time. I was encouraged to make changes to my diet and lifestyle and I learnt how to manage my emotional stress through various therapies and classes. Reflexology, meditation and breathwork was particularly healing for me.
The entire experience completely changed the way I viewed my health and the choices I was making. Learning how my emotional state directly impacted my physical health and wellbeing was really empowering, as I then felt a sense of control and responsibility for my health. The reconnection I felt to myself and the world around me has not always been easy, but a consistent practice that has enabled me to thrive.
I became so inspired by my healing journey that I decided to retrain as a Reflexologist in 2005 with the Bayly School in London. My passion for using food and lifestyle as medicine continued, and in 2018 I started my studies in Naturopathic nutrition so I could pass on the knowledge professionally. I feel extremely privileged to be able to share these treatments and help others with their own healing journey. 
Gentle thumb pressure is applied to specific reflex points in the feet or hands that correspond to all the various parts of the body
Supporting mums on their pregnancy,birth and postnatal  journey.
I'm currently in my second year of  Naturopathic Nutrition studies,which is the use of whole and organic foods as medicine.  Keep an eye on my social media pages to stay updated.
If you would like any further information please get in touch.
MON – SAT
All day with evening appointments available

Treatments available from
Move Osteopathy-
Poundbury
Dorchester Yoga Centre
Weymouth Acupuncture clinic
  Home treatments available on request
Get in touch
if you would like any more information
07860 676804